Milestone All Season Tyres
Milestone All-season tyres (also known as 4-season tyre or all-weather) are a thoughtful mix between summer and winter tyres. The rubber of all-season tyres is harder than that of a winter tyre but once again softer than that of the summer tyre. Because of the special rubber compound and profile all-season tyres perform excellent in summer and winter. The stopping distance of an all-season tyre in winter is shorter than that of a summer tyre. In the Netherlands, with usually mild winters an all-season tyre is a decent alternative for the winter tyre but, however, an all-season tyre is not a full replacement for the winter tyre.
Winter tyres have unique characteristics for maximum performance in winter conditions. The All-season tyre is a combination of summer and winter, and therefore a combination of specific properties. The level of performance is always a compromise between the essential summer or winter tyre properties. In Germany, and many other European countries, all-season tyres that have an M + S symbol (possibly in combination with the snowflake symbol) are also permitted in the winter. The minimum tread depth in winter is 4 mm.
Check also our offer Summer Tyres and Winter Tyres
About: Milestone GREEN 4SEASONS
---
More info soon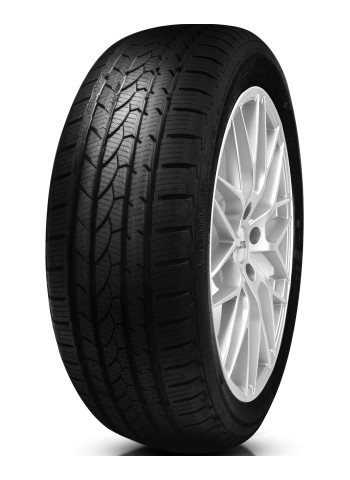 Sizes: Milestone GREEN 4SEASONS
---
| | | | | | | | |
| --- | --- | --- | --- | --- | --- | --- | --- |
| 80 Series | | | | | | | |
| 155 / 80 R0 | | 79 | T | | | | |
| 70 Series | | | | | | | |
| 155 / 70 R13 | | 75 | T | F | C | 2 | 71 |
| 165 / 70 R13 | | 83 | T | | | | |
| 165 / 70 R14 | | 81 | T | F | C | 2 | 71 |
| 65 Series | | | | | | | |
| 155 / 65 R14 | | 75 | T | F | C | 2 | 71 |
| 165 / 65 R14 | | 79 | T | F | C | 2 | 71 |
| 175 / 65 R14 | | 82 | T | F | C | 2 | 71 |
| 185 / 65 R14 | | 86 | T | E | C | 2 | 71 |
| 185 / 65 R15 | | 88 | T | E | C | 2 | 71 |
| 185 / 65 R15 | | 88 | H | E | C | 2 | 71 |
| 195 / 65 R15 | | 91 | H | E | C | 2 | 72 |
| 195 / 65 R15 | | 91 | T | E | C | 2 | 72 |
| 215 / 65 R16 | | 98 | H | E | C | 2 | 72 |
| 225 / 65 R17 | | 106 | H | | | | |
| 235 / 65 R17 | | 108 | V | C | C | 2 | 72 |
| 60 Series | | | | | | | |
| 185 / 60 R14 | | 82 | T | F | C | 2 | 71 |
| 185 / 60 R15 | | 88 | H | E | C | 2 | 71 |
| 195 / 60 R15 | | 88 | H | E | C | 2 | 72 |
| 215 / 60 R16 | | 106 | H | | | | |
| 215 / 60 R17 | | 96 | H | E | C | 2 | 72 |
| 55 Series | | | | | | | |
| 205 / 55 R16 | | 91 | H | E | C | 2 | 72 |
| 215 / 55 R16 | | 97 | V | E | C | 2 | 72 |
| 225 / 55 R17 | | 101 | V | E | C | 2 | 72 |
| 215 / 55 R18 | | 99 | V | E | C | 2 | 72 |
| 215 / 55 R18 | | 99 | H | E | C | 2 | 72 |
| 50 Series | | | | | | | |
| 195 / 50 R15 | | 82 | H | F | C | 2 | 72 |
| 205 / 50 R17 | | 93 | V | | | | |
| 45 Series | | | | | | | |
| 225 / 45 R17 | | 94 | V | | | | |